Community
PAST EVENTS
Valley Automall Presented with Award from the American Red Cross
Tyler Corder accepting an award on behalf of Valley Automall at the 2016 American Red Cross of Southern Nevada's Volunteer & Donor Awards ceremony. American Red Cross of Southern Nevada was one of 12 charitable organizations that Valley Automall donated $2,500, through the 12 Days of Christmas event during the 2015 Holiday season.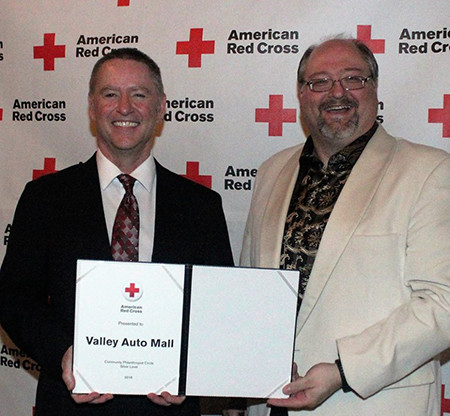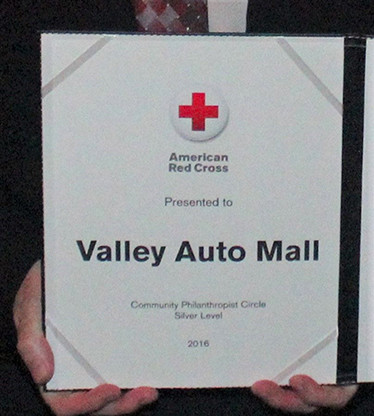 ---
Nevada State Veterans Home
Thank you again in arranging that our Home be gifted and recognized this Christmas Season. Attached are some photos from our gift distribution day that was funded with some the monies received from you.
Each resident received individual gifts that they had selected in October. Most of the residents had forgotten and were very surprised with their gifts!
---
---
Annual Tree Decorating Contest
Each year the Valley Automall holds a tree decorating contest for the local high schools. The annual contest plays a pivotal role in help fund extracurricular student activities. Budget reductions have eliminated many student clubs and school dances. Unfortunately, students are being forced to find alternative funding solutions outside of the school to sustain sports, clubs, and debate teams. Valley Automall is happy to lend a helping hand to preserve this vital component of the high school experience. The tree decorating contest encourages teamwork and creativity, but it also provides money for extracurricular student activities.
The Valley Automall provides each team with $300 to purchase tree decorations at a store of their choice. Next, the team adorns a 10-foot-tall evergreen inside a specific dealer showroom. Local celebrities will judge the trees, awarding prizes to the winning schools.
The top team receives a $3,000 cash prize; second place gets $2,000 followed by $1,000 for third and payouts from $750/$500/$250 for all the remaining schools.
16th Annual Tree Decorating Contest winner was Coronado High School's Band. Coronado High School's Band beat-out 20 competitors to win 2013's $3,000 first place prize. The winning team used their winning to help fund instrument purchases, repairs and many other expenses the club deals with.
Boulder City High School's Senior Class Student Council nabbed second place. The school received a $2,000 prize for its efforts, which they used toward funding numerous expenses for the year.